Hello everyone! My name is Kaila Smith. I'm a senior at Wagner College. I am a peer tutor at my school and I also play on the softball team. I am from the small town of Millville in the southern part of New Jersey. I've lived there my whole life, so the hustle and bustle of New York City has been a totally new and exciting experience for me. My major is sociology with a concentration in social work, with minors in civic engagement and psychology. I've always known I wanted to work in a field where helping people is the main focus. After exploring different options that appealed to my interests, I found that social work encompassed all of the elements I was
looking for. My favorite thing about social work is that there are so many different paths you can take, but all of them lead to advocating for and assisting those whose voices are not always heard.
As someone who didn't have much knowledge about immigration prior to coming to college, I've learned so many things throughout my four year experience. I have had wonderful professors at Wagner who have shared stories of their own migration with me and inspired me to educate myself further on the topic. I had the privilege of working with children of immigrants at Make the Road New York as an after school tutor. I interacted with lots of children and their families who each had their own unique experience to get where they are today. There were happy endings for some families, but for most, this was not the case. I didn't know about all of the struggles that came with pursuing a better life, and that was something I wanted to change.
When searching for an internship, I wanted to work in the realm of social justice. I had heard the personal stories of those who have migrated to the United States, but now I wanted to understand the legal side of it. I found Migration Resource Center online and knew it was the place I wanted to dedicate my time to. All of the services offered are aimed to help those who do not have the financial means to obtain legal assistance, which is something that is much needed in the immigration process. I appreciate MRC's commitment to not only providing resources, but education as well. MRC offers an abundance of knowledge in a variety of topics and are eager to share it with the community. The small, tight-knit atmosphere also drew me to MRC because I knew I would have in a hand in the honorable work MRC does and would learn the ins and outs of working in the non-profit sector.
I am excited to get a glimpse of the behind-the-scenes work MRC does and learn what it takes to be successful in immigration law. I am thrilled to begin my time as an Outreach and Marketing Intern and absorb all of the information that I can in the next three months!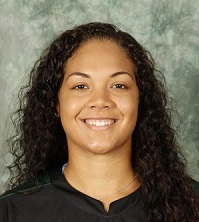 BY: Kaila Smith,
Outreach & Marketing Intern,
Feb-Apr 2020