— By Tom De Kesel, Staff Attorney & Peter Pinshu Yang, Legal Intern
Since the change in administration, January 2017, Migration Resource Center been receiving an increasing number of phone calls from detainees locked up in detention centers around New York City. Many concerned family members also come to our office seeking advice about representation for their loved ones who are in the custody of Immigration and Customs Enforcement (ICE). Sometimes the family members don't even know where the detainee is located.
After an initial consultation with the family members, we usually offer to go to the detention center and meet the detainees in person so they can narrate their story and explain their current situation to us. We conduct the initial intake process there. We believe taking the time to meet the client face to face creates a stronger bond and helps us better understand their specific experience; each client has a unique case. An essential part of our representation is that we gain a great understanding of the client's legal issues and significant concerns.
Visiting Detainees
Entering the detention facility is like entering a grim, depressing building. The walls are off-white; the doors are mocha-colored. There is minimal natural light. I saw lots of waiting mothers and children, trying to see their loved ones. I heard the constant noise of heavy doors falling into heavy locks and was surrounded by a continuous echo of distant voices. After I checked-in with an officer and passed through a metal detector, multiple doors and gates opened and closed. Sometimes I had to ring a bell to open a door or gate. A claustrophobic feeling surrounded me.
After multiple gates, doors, and check-ins with different officers, I waited in a small, private room for the detainee. The room is around 6 by 12 feet, just enough space for a table and two chairs. A guard escorts the client in and, finally, I speak with them.
After the interview, I leave. But sometimes detainees have to wait in detention for weeks, or even months, for their Notice to Appear.
Detention Center Statistics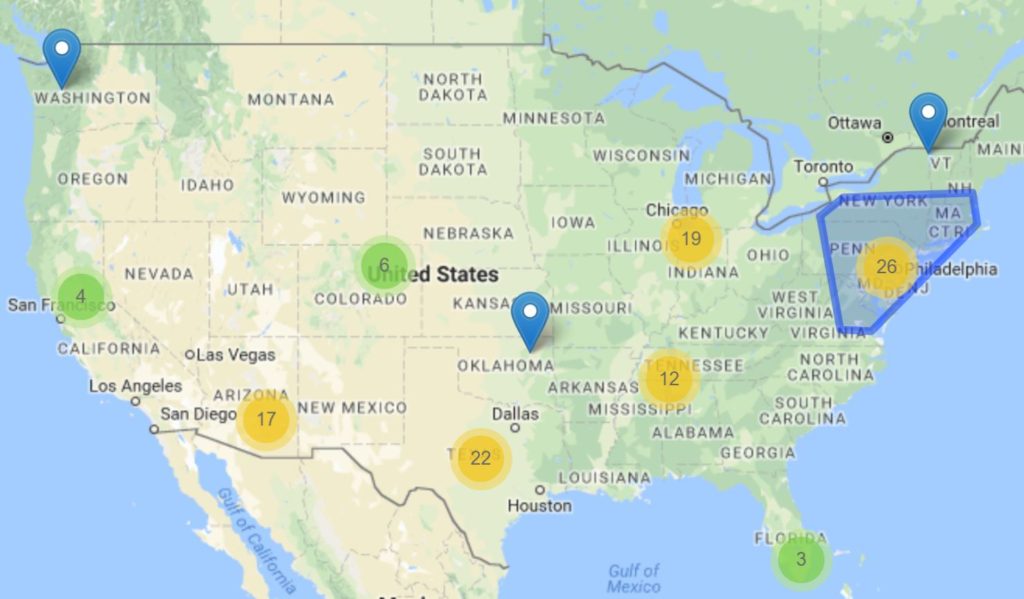 According to the ICE website, the 112 detention facilities across the nation are organized into twenty-four Areas of Responsibility (AORs). The New York City metro area has seven of facilities. Outside of the NYC metro area, six facilities are in New Jersey and one is New York State.
Total number of detainees booked to all ICE detention centers, nationwide, by year:
2015 – 300,000
2016 – 360,000
2017 – 320,000
Average daily population in ICE detention centers, nationwide:
2017 – 38,106
2018 (est) – 51,379
Daily detainee population by New York City metro area AOR:
Newark – 1,223
New York – 1,307
How Migration Resource Center Can Help
Migration Resource Center provides immigration legal services, representation, and preparation for our clients to appear in front of an Immigration Judge. Furthermore, we try to be the liaison between the Deportation Officer and our client. For more information on how to help a loved one who is currently detained, contact us at the phone or website below.
Call us at 646-609-8805 (NY) or 602-344-9255 (AZ).
To see more articles like this, subscribe to our monthly newsletter, MRC News, and have each issue delivered to your mailbox.