By Chloe Juriansz, Outreach Coordinator
June 30, 2018, members of our Phoenix office attended the Families Belong Together Rally held in Phoenix, AZ. They joined thousands of protesters across the globe to protest the Trump administration's separation of families at the border. Signs of support and outrage filled the lawn outside of the Arizona Senate. Countless activists and concerned individuals stood in solidarity with those affected by President Trump's new wave of immigration policy.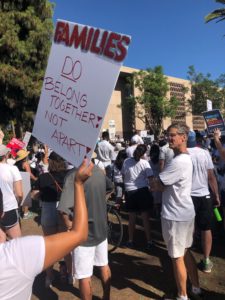 The most-recent is a zero-tolerance policy on illegal immigration. This policy mandated that illegal crossings over the Mexican border would result in the separation of children from their parents. Over the course of six weeks, ICE officials separated almost 2,000 children from their families along the US border. These children were housed in separate detention facilities or placed into the foster care system.
This resulted in widespread criticism of the policy and created the Families Belong Together movement. In response to this pressure, President Trump signed an executive order on June 20 that requires families crossing the border illegally be detained together. Although the the order stops the separation of families at the border, there is no provision to reunite the families separated during the previous six-week period. Nor is it clear that any action will be taken to do so.
In the wake of this distressing era of immigration policy, Migration Resource Center's work has become evermore timely as we work tirelessly to advocate for and free these families and others detained at the border.
Migration Resource Center provides affordable immigration legal services.
Call us: 646-609-8805 (NY) or 602-344-9255 (AZ)
Visit our Website: https://www.migrationusa.org/contact/
To see more articles like this, subscribe to our monthly newsletter, MRC News, and have each issue delivered to your mailbox.