Contact Us
Immigration Questions? Find answers here. Green Cards, Visas, Citizenship, Waivers, Deportation.
Thinking about donating to our cause or volunteering? Find out how you can help here.
Directions
From Downtown Phoenix:
Approx 4.01 mi / 14 minutes
Walk to the WASHINGTON LIGHT RAIL STATION STOP #10031
Take the 3RD STREET / WASHINGTON LIGHT RAIL STATION LTRL Valley Metro Rail West To 19th Ave/Dunlap towards STOP #10007 OSBORN RD / CENTRAL AVE LIGHT RAIL STATION
Walk to 3101 N CENTRAL AVE
From Sky Harbor International Airport
Approx. 8.57 mi / 43 minutes
SKY HARBOR AIRPORT TERMINALS 2, 3, 4 & East Economy Parking
Take SKYTRAIN TO 44TH ST WASHINGTON towards STOP #18372 Sky Train TRANIST CENTER
Walk from Sky Train TRANSIT CENTER to 44TH STREET/WASHINGTON LIGHT RAIL STN
STOP #10018 44TH STREET / WASHING LIGHT RAIL STN LTRL Valley Metro Rail West To 19th Ave/Dunlap towards STOP #10007 OSBORN RD / CENTRAL AVE LIGHT RAIL STATION
Walk to 3101 N CENTRAL AVE
Public Transportation
The Light Rail system and Valley Metro system can be accessed via bus stops near Migration Resource Center. Light Rail (North and South) stops near N Central and Osborne, about two blocks from Migration Resource Center and the Valley Metro Bus route #29 (East & West) stops near the corner of N Central Ave and Thomas Rd, within a quarter mile of our office. The Valley Metro Trip Planner site (http://trips.valleymetro.org/pages/full_trip) can be used to get specific route information for the Light Rail and the Valley Metro Bus System.
At the Migration Resource Center Phoenix location we offer a wide array of immigration legal services and immigration representation including family law consulting, citizenship classes, outreach programs and education classes. Our Phoenix office  team is made up of a diverse group of professionals, staff and volunteers from various backgrounds, all dedicated to serving clients, regardless of faith, gender, race or ethnicity.
Our Phoenix services include:
Immigration Legal Services
Education Classes
Legal Representation for Immigrants
Community Outreach Programs
Visit Migration Resource Center in Phoenix today!
Nearby Phoenix AZ Immigration Resources
USCIS Phoenix, Arizona Local Field Office
The USCIS Phoenix Field Office handles scheduled interviews on applications that are not related to asylum. They provide fingerprinting and other support services by appointment, after an application has been filed. They also provided limited information and customer service and administer naturalization ceremonies.
This office serves the following counties: Apache, Coconino, Gila, Greenlee, La Paz, Maricopa, Mohave, Navajo, Yavapai, and Yuma.
The USCIS Phoenix, AZ field office is located about 15 minutes from the Migration Resource Center in Phoenix.
For more detailed information visit their website https://www.uscis.gov/about-us/find-uscis-office/field-offices/arizona-phoenix-field-office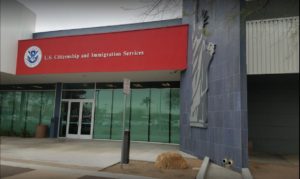 About Migration Resource Center Phoenix
The Migration Resource Center Phoenix office is located in the CBIZ Plaza building in the heart of the Phoenix Midtown Corridor along the light rail and directly across from Park Central Mall which offers numerous restaurants and retail shops.
Phoenix is the capital of the southwestern U.S. state of Arizona. Known for its year-round sun and warm temperatures, it anchors a sprawling, multi-city metropolitan area known as the Valley of the Sun. It's known for high-end spa resorts, Jack Nicklaus–designed golf courses and vibrant nightclubs. Other highlights include the Desert Botanical Garden, displaying cacti and numerous native plants.We enjoy working and serving our clients in the Phoenix area.
For more information about our immigration legal services in Phoenix, AZ call Migration Resource Center Immigration Counselors at (602) 344-9255. Schedule your free immigration case review today!