By Kristine Suarez, MRC Development Intern
You may or may not have heard the term "Sanctuary City." Some see it as a sacred and safe place. Others, not so much.
What is a Sanctuary City?
In short, Sanctuary cities are cities/states/counties that provide protection to undocumented immigrants. Sanctuary cities limit their cooperation with federal immigration enforcement, such as ICE, to better focus on more serious crimes. It also provides a sense of unity in the community by upholding trust between law enforcement and undocumented immigrant populations.
What Cities are Sanctuary Cities?
Thus far, a great number of states are in the process of passing laws, either for or against sanctuary city policies. What we do know is that densely populated states with major cities like California, New York, Washington, and Illinois are practicing sanctuary policies. In the anti-sanctuary states category, there are Alabama, Arizona, North Carolina and Texas.  Others are awaiting a verdict. It can be hard to predict which states will be sanctuary states.
What are the Pros and Cons of Sanctuary Cities?
The Trump Administration has aggressively sought ways to de-fund and eliminate sanctuary policies across all states; saying that such policies tend to endangering public safety and result in many deaths. Despite this notion, researchers find a more shocking revelation. Analysis shows that sanctuary cities see 15% less crime than non-sanctuary cities.
While sanctuary cities may be experiencing less crime, non-sanctuary cities are experiencing something much worse. Researchers also confirmed that fear of police interaction can result in a large number of crimes going unreported. In Houston, crime reports from the Hispanic community have decreased 42.8% just from last year. Women in Colorado are dropping domestic abuse cases, in fear of deportation.
Conclusion Sanctuary cities can have a polarizing effect in different places. As some states prioritize the safety of their citizens, other states are approaching the situation in a more inclusive way. It is very important to be aware of our rights and where we stand regardless of immigration status.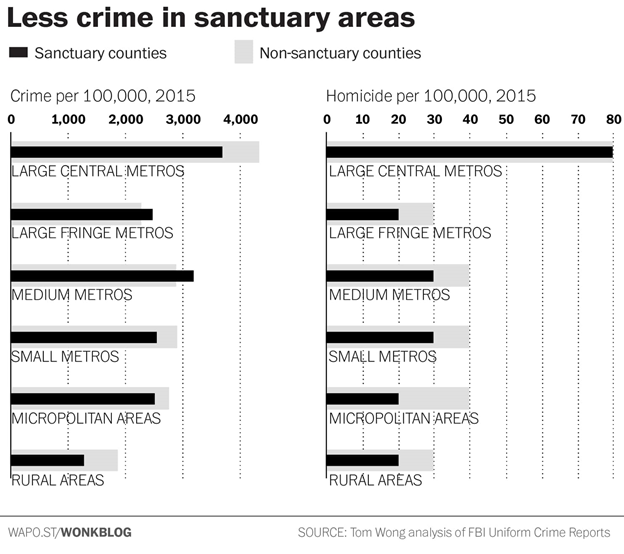 Migration Resource Center provides affordable immigration legal services.
Call us: 646-609-8805
Visit our Website: https://www.migrationusa.org/contact/
To see more articles like this, subscribe to our monthly newsletter, MRC News, and have each issue delivered to your mailbox.